Summer Swimming Intensive Week
Intensive week – 15-19th August @ Woldingham Girls School
5 x 30minute lessons in a group = £63.75
5 x 30minute private 121 lessons = £150.00
Come and swim every day for a week for a great boost of confidence and improvement in skills and stroke in a week.
Why Swimming?
Come and join our FUN based swimming lessons teaching children and adults a life saving skill so that you can enjoy being in and around the water.
Swimming is a great activity to do as a family. Once you have learnt to swim you can enjoy it on your holidays, snorkelling, scuba diving, water polo, fishing and sailing a boat to name a few.
We are affiliated with Swim England and follow their Learn to Swim Framework so that children can work towards badges and certificates to track and motivate their progress.
We teach children from 3 years upwards, and adults too. One in five adults in UK can't swim, and it is never too late to learn.
As a team we are passionate about swimming, l
ove swimming weekly and in the summer enjoy the open water lake in Godstone
. We want to pass our love for swimming onto others so that you can enjoy your free time in the water
like
we do.
Monday Lessons
Join us at The Beach in Caterham.
NEW: Pre School class 4:30 starting in September for children from 3 years old.
Saturday Lessons
New lessons in Caterham!!
For all children from 3 years+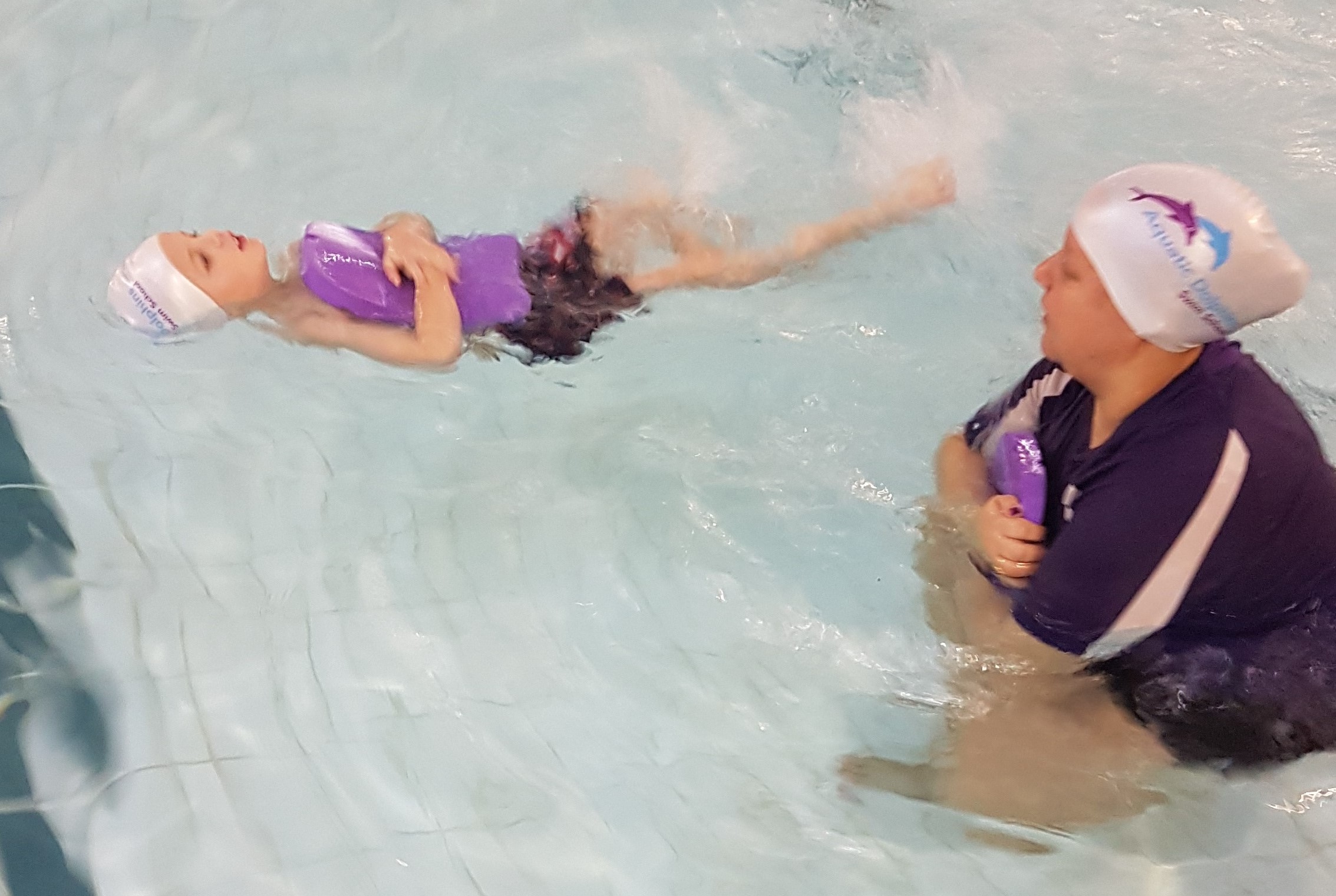 Get started now
We swim term time only taking a break during the school holidays. You can join our lessons at anytime and your fee will be calculated depending on the number of weeks left. When a child needs to move up a class they will also be moved as soon as possible rather than waiting until the end of term.
Can your child swim 25m? Which is the distance thought to be essential so that they could have a chance of saving their life if they fell into water. 
It is a National Curriculum requirement to be able to swim 25m by the time children leave primary school. 
One in five adults can not swim. It is never to late to swim, and adults tend to want to learn when their children are also learning to swim. Once you can swim think of all the other opportunities of activities you can take part in. Let alone swim for fitness. Also as a non weight baring exercise it is great for those with joint problems and people recovering from injury.
We love to swim
Purley Dolphins has been teaching children to swim since 1986. Danielle renamed the swim school in September 2017 as we don't just teach in Purley, now called Aquatic Dolphins Swim School. Danielle started teaching swimming at the age of 14 helping out in her mums classes who is also a swimming teacher. In 2016 she went on to train as a Swim England Tutor so now passes on her passion to others wanting to train as a swimming teacher. 
Danielle believes that everyone should have the opportunity to learn to swim and that lessons are underpinned with the FUNdamentals so that everyone learns core aquatic skills through fun and games whilst allowing everyone to learn at their own pace. As Danielle and her team all love swimming we are sure that you will love it to.